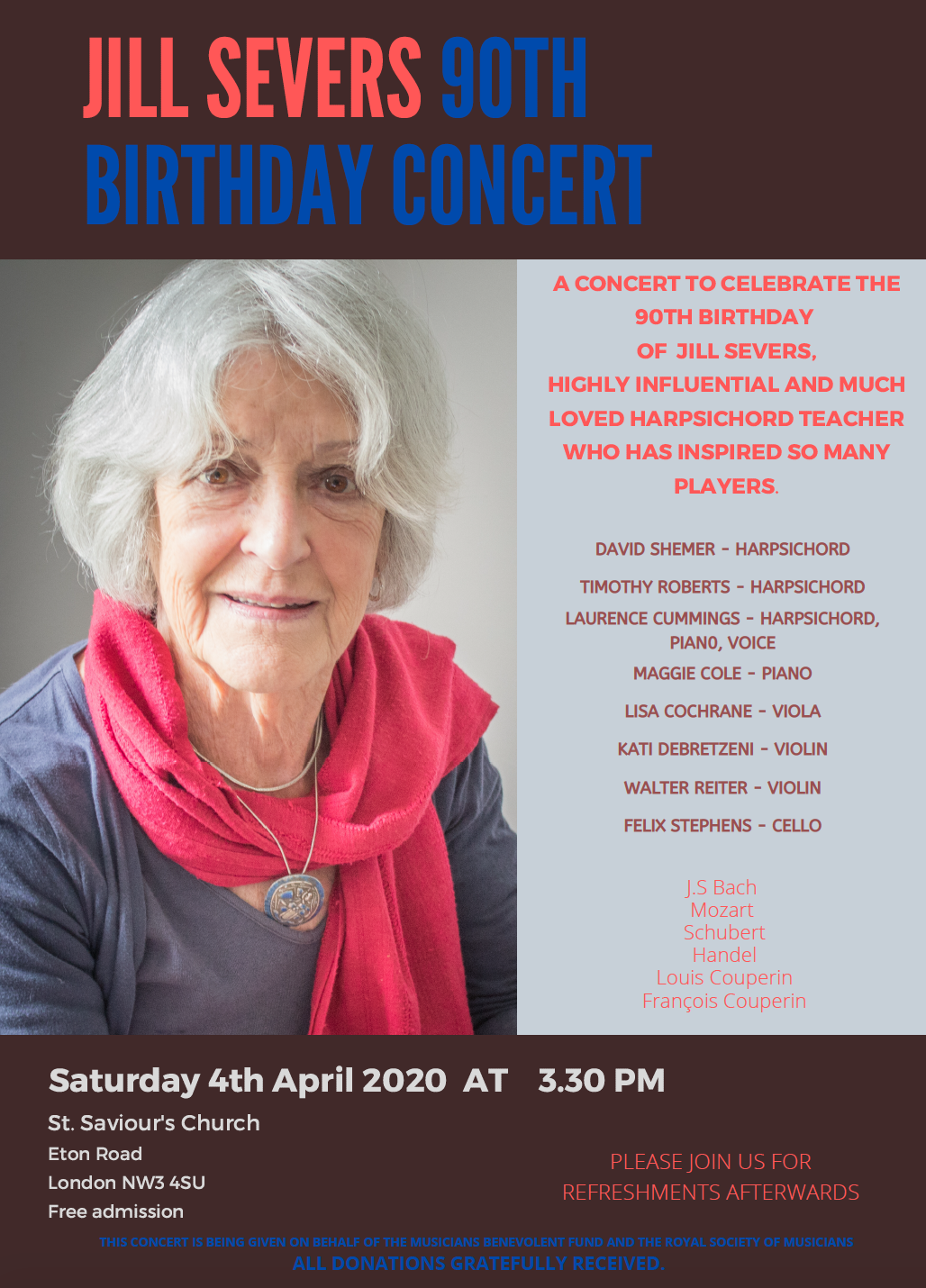 Independent Performance
Project
Felix Stephens
JILL SEVER'S 90TH BIRTHDAY CONCERT
FEATURING MUSICIANS WHO WERE FORMER PUPILS
BACH MOZART SCHUBERT HANDEL COUPERIN
Maggie Cole enjoys a richly varied musical life with performances on harpsichord, fortepiano and piano. Born in the USA, she began playing the piano from an early age. A keen interest in early keyboards led her to England where she now makes her home. Maggie's teachers were Jill Severs and Kenneth Gilbert and she is pleased to be part of this harpsichord "family tree" which began with Wanda Landowska. Best known in Britain through numerous recitals on BBC Radio 3 and appearances at leading festivals, abroad she has performed in venues from Seattle to Moscow, and from Finland to India. In addition to solo recitals – with Bach's 'Goldberg Variations' a speciality, given in London, Paris, Cologne, Basel, Mallorca and Chicago – she frequently performs in duos with partners including Nancy Argenta soprano, Michael Chance counter tenor, Philippa Davies flute, Catherine Mackintosh violin and Steven Isserlis cello. She is also particularly devoted to the Classical chamber music repertoire and explores this with her fortepiano trio, "Trio Goya" (Maggie, Kati Debretzeni, violin and Sebastian Comberti, cello).
JILL SEVER'S 90TH BIRTHDAY CONCERT
Laurence Cummings is one of Britain's most exciting and versatile exponents of historical performance both as conductor and harpsichord player. He has been Musical Director of the London Handel Festival since 1999 and Artistic Director of the Internationale Händel-Festpiele Göttingen since 2012, as well as acting as Music Director for Orquestra Barroca Casa da Musica Porto. He is the William Crotch Professor of Historical Performance at the Royal Academy of Music.
He has conducted productions for English National Opera, Opera North, Glyndebourne Festival Opera, Garsington Opera, English Touring Opera and at the Linbury Theatre Covent Garden. He regularly conducts the English Concert and the Orchestra of the Age of Enlightenment and has worked with the Hallé, Bournemouth Symphony, Britten Sinfonia, Royal Northern Sinfonia, Orchestra, and Basel Chamber Orchestra.
His numerous recordings include the first recording of Handel's newly discovered Gloria with Emma Kirkby, and Handel Arias with Angelika Kirschlager and the Basel Chamber Orchestra for Sony BMG.
Recent highlights include Berenice for the Royal Opera House Linbury Theatre in collaboration with the London Handel Festival and Monteverdi Vespers at Garsington Opera;
JILL SEVER'S 90TH BIRTHDAY CONCERT
David Shemer, harpsichordist, conductor and teacher, is a leading figure of the Israeli early music scene. He was born in Riga, Latvia, immigrating to Israel at an early age. After completing his studies at the Jerusalem Rubin Academy of Music and Dance, he specialized in Baroque performance practice in London, where he studied with such illustrious teachers as Christopher Kite, Jill Severs, and Trevor Pinnock.
Shemer performs and records widely in Israel, Europe and in the USA, as a soloist, chamber musician and conductor. His recently released CD of Bach's Goldberg Variations was highly praised by both the critics and music lovers.
JILL SEVER'S 90TH BIRTHDAY CONCERT
Carole began her harpsichord studies aged 11, and, after meeting Kenneth Gilbert, was invited by him as the youngest ever participant on his course at the Vleeshuis in Antwerp. He later described her as the most talented student he had encountered in his teaching career. She also made regular visits to Gustav Leonhardt in Amsterdam. At the core of her musical life has always been the constant and profound influence of the esteemed pedagogue, harpsichordist Jill Severs.
JILL SEVER'S 90TH BIRTHDAY CONCERT
The harpsichordist and organist, James Johnstone, enjoys a varied musical life working mainly within the period instrument world. After studies in London and Holland James has forged a career as recitalist, chamber musician, continuo player and teacher. He is a member of a number of ensembles, currently Trio Sonnerie, Harmonie Universelle (Köln), iFuriosi (Toronto) and the Monteverdi Choir and Orchestra.
As a recitalist he has performed in Great Britain, Denmark, Holland, Germany, France, Spain, Poland, Switzerland, Israel, Equador, Colombia and the United States.
He appears on 22 recordings on Deutsche Grammophon with the Gabrieli Consort and Players, 10 discs with Florilegium, and has recorded six solo discs of works by Blow, Gibbons, E Pasquini, Cornet, Elizabethan Virginalists, a Bach organ recital (Waalse Kerk, Amsterdam) and Bach's Clavier-Übung Part III (Nidaros Cathedral, Trondheim).
James is professor of Early Keyboards at the Guildhall School of Music & Drama, and at Trinity Laban Conservatoire of Music and Dance.
JILL SEVER'S 90TH BIRTHDAY CONCERT
A SHORT INTERVIEW WITH JILL
Sadly on March the 11th our event was looking like having to be cancelled due to  being affected by the Covid virus and the impending lockdown due to the situation in Italy.  Very regrettably, David e mailed to say that he would not be able to come to the UK for his planned and much anticipated week due to restricted flights.  Also Jill has been advised to avoid all crowds and trains and so it would be unwise for her to travel to London probably for her concert.
This has made me think hard about whether we should go ahead. David will understand if we do but there is also the option to postpone until a less uncertain time.  Other factors to consider - 
We could find that our audience is very reduced because of people not wanting to gather.
There might be a directive that gathering in groups is highly discouraged.
If we postponed, none our work would be wasted. We would just use it at a later date. 
I decided to have a chat with Jill about the concert and her former students and made a short video of our discussions....